VINTAGE AUTOBODY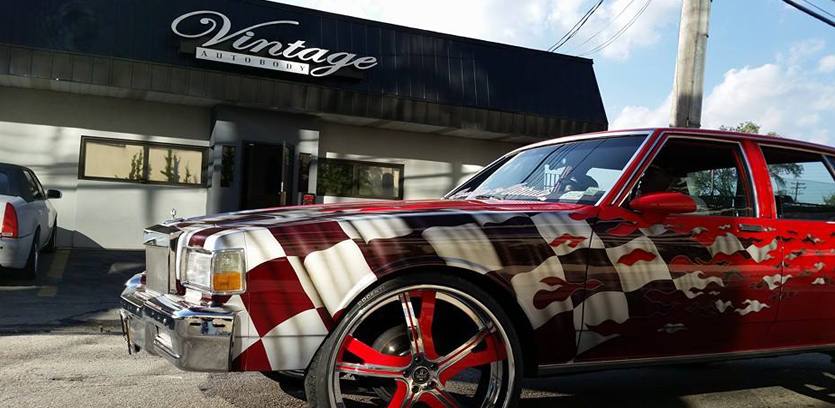 ---
Top-Quality Collision Repair & Color Matching in Westbury, New York..
Vintage Auto Body & Towing provides Custom Auto Painting and Air Brushing to Long Island and Tri-state Area. Exact color Matching, Custom Paint, Auto Painting, and Auto Restoration in Westbury, Long Island, New York, NY. We are a registered auto collision repair shop for the State of New York.
CUSTOM AUTO PAINTING, AIR BRUSHING AND FABRICATION
---
Nothing finishes a Custom Car, Truck or Motorcycle better than some Custom Paint and Airbrushing work. Vintage Auto Body offers customized air brush painting on everything from hoods, trunks, fenders to complete vehicles, including cars, boat and motorcycles.
Specializing in custom paint from concept to completion, including original design, body work, prep, paint, finish and show quality polish. Vintage will make the artwork shine with that deep glass finish.
Vintage Auto Body airbrush services on vehicles range from custom murals to completely customized coverage on cars, trucks, cars, motorcycles, motorhomes, boats, yachts, airplanes and more. We perform full or partial restorationpaint jobs, custom color change or just a same color full paint job to fit your needs.
If you need some interior components or accessories painted, such as bezels, engine covers, wheels or valve covers? No problem. Just bring them by our shop and we will give you a complete estimate based on size and design.
THE AIRBRUSH PAINTING PROCESS
---
Our main focus it to provide our customers with an exceptional, high quality, custom, paint job while maintaining outstanding customer service. Prior to starting any airbrush paint job we provide our customer with preliminary sketches and renderings as well as a price quote for the airbrush paint job. The customer can provide us sketches and renderings by their artist as well. Drawings can help us with all the ideas that you envision your vehicle to look like. You can also have our master air brush artist sketch your ideas for your vehicle.
After the sketch/rendering is approved the paint job will be started. The customer can expect updates throughout the painting process and the opportunity to provide input. We also send pictures to our customer for final approval.